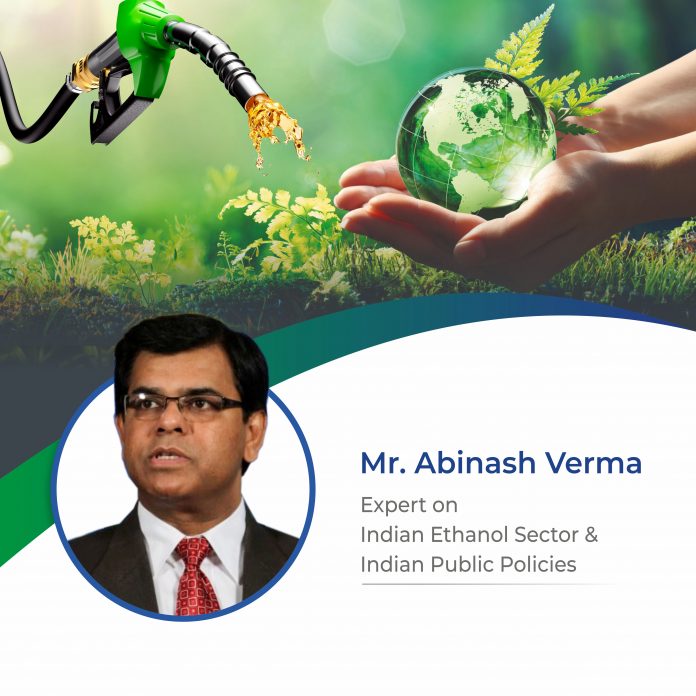 India has taken a step ahead in achieving energy security and transitioning towards a thriving low carbon economy by blending locally produced ethanol with petrol. This will help India strengthen its energy security, enable local enterprises and farmers to participate in the energy economy and reduce vehicular emissions.
In conversation with ChiniMandi News, Mr.Abinash Verma – Expert on Indian ethanol sector and Indian public policies shared his views on the current ethanol scenario in India, the challenges that need to be addressed and the way forward.
He said, "With the Hon'ble Prime Minister, Narendra Modi ji, personally overseeing and encouraging the ethanol blending programme (EBP) in the country, there are several positives for the sector. The Government has correctly attempted to first develop adequate ethanol production capacity, for which financial incentives in the form of interest subvention for 5 years, attractive ethanol prices linked to the feedstock and concessions in bank loans have been introduced in the last 5 years or so. Seeing a big opportunity for its farmers, most of the State Governments have also very swiftly announced their own ethanol policies with several incentives therein. The result has been massive excitement amongst investors, including new entrepreneurs, both in the sugar/sugarcane based and grain based ethanol plants. The available data gives us the confidence that ethanol production capacity will be adequate by 2025 to produce more than 10 billion litres of ethanol for the required blending level of 20% across the country, as targeted by the Hon'ble Prime Minister."
Speaking on the challenges that need to be addressed he shared, "I think we are on course to achieve the required ethanol production capacity by 2025. To produce 10 billion litres of ethanol in 2025, the production capacity has to grow by 100%. Growth of production capacity can happen gradually throughout the next 3 years. Therefore, demand and blending level has to also show a gradual growth from the current 10% (E10) in 2022, to say 12-13% in 2023 and 15-16% in 2024 to finally reach 20% (E20) in 2025. Hon'ble PM took the first step in this direction, when he announced the BIS standards for E12 and E15 fuel on World Environment Day on 5th June 2021. The annual tender for ethanol procurement for Dec.2022 to Nov 2023 will be invited within the next one month, and it will be very important that the OMCs invite ethanol bids equivalent to 12-13% all India average blending for 2022-23. In other words, the challenge is more on how smoothly we are able to roll out the blending programme and the demand/offtake of ethanol over the next 3 years, to ensure that the producers do not get stuck with excess unsold ethanol. Along with the demand growth, will come the challenge of transporting and distributing the 10 billion litres of ethanol across the country, from surplus ethanol producing States to deficit States across the country."
On being asked how he sees the ethanol policy evolving from here? And how he sees the ethanol sector in the next 5 years; Verma answered, "I see a very bright future for the Indian ethanol industry. There will have to be heavy investments not only in building more ethanol production capacities, but also in storage, transportation as well as distribution network for procuring the ethanol from producing States and selling it in consuming States. The Government will need to, therefore, formulate ethanol policies to incentivise and encourage investments in storage, transportation and distribution networks across the country. At the same time, there will be a need to generate adequate demand for the higher ethanol production from next year. All the above will be a waste if we do not ensure that such vehicles are developed which can run smoothly on higher blends of ethanol. Dependence on E20 compliant vehicles only, may not be enough to generate the desired demand for 20% blending by 2025. There is an immediate need to develop and roll out flex fuel vehicles (FFVs), which will help generate higher ethanol demand in a much shorter time. Looking at the numbers, it is absolutely clear that if India has to achieve 20% blending across the country, FFVs are essential in the country from next year itself, if not earlier. Therefore, I also expect a set of policies very soon from the Government to incentivise FFVs, including GST concessions and PLIs on such FFVs."
Of late, most of the grain distilleries are complaining about increased grain cost making ethanol production unviable from DFG. Asking on what his thoughts are and what are expected future expansion plans in grain based ethanol plants?
He answered, "It is very true that the prices of both the broken rice and maize, the two very important raw materials for a grain based distillery have jumped from around Rs.17,500 per ton to over Rs.22,000 per ton. The Russia-Ukraine war created a shortage of these commodities, and India exported much more than they usually did earlier, including rice, causing a very high price rise of broken rice, maize and rice in the Indian markets. At the same time, the price of coal jumped 3 times, pushing many coal users to shift their fuel use to biomass, especially rice husk. That resulted in a 3 time jump in the price of rice husk, from around Rs.3,500 per ton in the previous year to over Rs.10,500 per ton or even more now. A simple math will show that for every Rs.1,000 per ton increase in price of rice/maize enhances the cost of production by Rs.2.25 per litre of ethanol and for every Rs.1,000 per ton increase in price of rice husk/biomass, the cost increases by Rs.1.75 per litre of ethanol. In other words, the Rs.4,500 per ton price increase in rice/maize price and Rs.7,000 per ton price increase in rice husk has increased the cost of production of ethanol by around Rs.10 and Rs.12 per litre respectively (a total of Rs.22 per litre of ethanol). This has made the whole economics of ethanol production from grains completely unviable."
"Availability of surplus FCI rice at a fixed price of Rs.20,000 per ton at FCI godown, has been a small consolation, along with a temporary price incentive of Rs.1.44 and Rs.2.34 per litre from OMCs till 30th Nov 2022, but not enough to make the business of ethanol production from grains viable from any stretch of imagination. I am sure this has put a lot of doubt in the minds of prospective investors in the grain based ethanol plants. Some of them may already be rethinking about their investment plans, unless some concrete solutions are found to the problem of very high raw material and very high fuel/rice husk prices. With banks not very favourable to extending loans to grain distilleries, future expansion plans in the grain based ethanol sector are already under threat. If raw material and fuel cost problems are not solved either by reducing their prices or otherwise by increasing the ethanol procurement prices, the investors may lose interest very quickly from this very important and much favoured sector of the Hon'ble Prime Minister." Verma added.