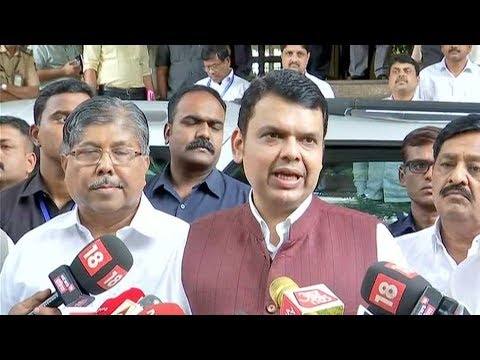 The Marathas will get reservation in Maharashtra after the requisite legal process is completed, said CM Fadnavis.
MUMBAI: The Maharashtra government on Thursday said that it fully supports the demand for giving reservations to Marathas and assured that the members of the community will get reservation lawfully.

The assurance came from Maharashtra Chief Minister Devendra Fadnavis who assured that Marathas will get the reservation after the requisite legal process is completed.
The Chief Minister said this following a meeting with state leaders, top Maratha agitation activists, and the state government officials over the issue of granting reservation to Marathas.
"Today a meeting was held with state leaders from diverse sections and a joint statement has been signed to give reservation to Marathas lawfully. The state government stands in absolute support for Maratha reservation and we are following the requisite process to do it at the earliest."
The statement from the Chief Minister came a day after the Maratha activists held a 'jail bharo' protest in Mumbai, demanding immediate implementation of reservations in jobs and education for the community.
At least thirty-four protesters were detained by the police, however, they were released later.
Pro-quota groups led by the Maratha Kranti Morcha organised the 'jail bharo' agitation at Azad Maidan in south Mumbai while local groups in some parts of the state also held similar protests.
Rail and road traffic in the city wasn't affected by the Maratha community protest across the city.
A group of Maratha community members also staged an agitation outside the residence of state Labour Minister Sambhaji Patil-Nilangekar in Latur district.
Protesters blocked a portion of the Pune-Solapur National Highway in north Solapur.
Protests were also held at Junnar in Pune district. Rallies were held in Shirur and Khed tehsils in Pune district.
Farmers from Hingoli district in Marathwada region, the hub of most of the aggressive protests, organised a bullock-cart march to demand quota for the community.
The Maratha community is around 30 percent of the states 12 crore population. Since the last 10 days, their protests have turned violent.
Their demands include 50 percent reservation in jobs and education, implementation of the capital punishment given to accused in the Kopardi rape case and amending the SC/ST (Prevention of Atrocities) Act to prevent its misuse.
So far six people have committed suicide in the state due to the ongoing agitation. A 35-year-old farm labourer was found hanging by a tree near his house in Beed district yesterday.
Also, on Tuesday, eight demonstrators tried to set themselves on fire in Latur district, but police foiled their attempt.