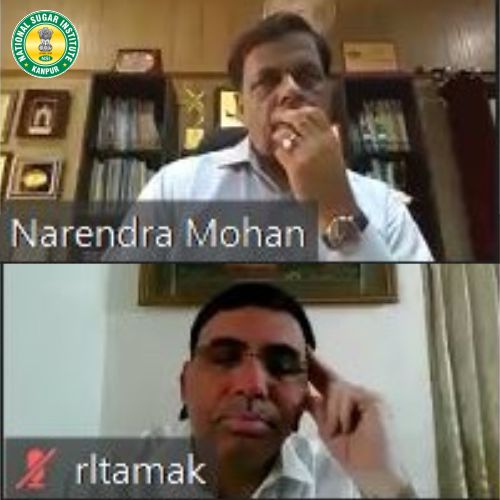 Kanpur: An International Webinar on the topic "Alternate Uses of Bagasse" was organised by National Sugar Institute, Kanpur today i.e. on 2nd July 2020. Mr. R L Tamak, Executive Director & CEO (Sugar Business), DCM Shri Ram Ltd in his inaugural address called upon the sugar industries across the globe to innovate on developing value added products from bagasse as in many countries, the bagasse based power generation is not feasible and bagasse disposal becomes a problem. Looking to the composition of bagasse, it can be a potential source for producing 2G ethanol and other bio-products. Prof. Narendra Mohan, Director in his key note address laid emphasis on utilization of bagasse for all purposes, bio-energy, food/feed, bio-material and bio-chemicals. Utilization of bagasse in such a manner can prove to be money spinner providing many products which are environment friendly and good for health.
Shri Vinay Kumar, Asstt. Prof. Sugar Engineering of the institute made presentation on production of particle board and laminated board for use in making furniture. Studies have indicated that panels made from sugarcane bagasse showed comparable or superior physical and mechanical properties to those made from Eucalyptus and Pinus. Production of particle board panels with sugarcane bagasse may reduce the use of timber and thereby, reduce the pressure on forests. He also emphasized upon production of eco-ware crockery from bagasse  by pulping it and putting into shape in a high-heat, high-pressure process.
Dr. Vishnu Prabhakar Srivastava, Asstt. Prof. Organic Chemistry, described process for use of sugarcane bagasse as well as sugarcane trash as source for production of bio-plastics.Excess use of non-biodegradable, conventional plastics have led to severe environmental as well as ecological concerns.Search for alternate options to replace petroleum based polymers with biodegradable plastics is the need of hour and thus bagasse may be considered as a potential source. The market for bio-plastics is expected to grow from US$17.50 billion in 2016 to about US$ 35.47 in 2022.In her presentation, Dr. (Mrs.) SeemaParoha, Prof. Biochemistry, made presentation about production of dietary fibres from bagasse. She elaborated many advantages of dietary fibres associated with human health viz. weight reduction, protection from gastrointestinal illness, protection from colon cancer and reduced risk of stones.
In his concluding remarks, Dr. M.S. Sundaram, Managing Director, JP Mukjerjee& Associates, Pune advised sugar industry for creating a showroom of multiple products from sugarcane bagasse. The industry should conduct a market survey about requirement of all such products and formulate a vision plan for implementation.
More than 800 delegates from Sri Lanka, Nepal, Kenya, Brazil, Nigeria and Indonesia participated in the Webinar.
 To Listennternational Webinar on "Alternate Uses of Bagasse" organised by NSI News click on the play button.