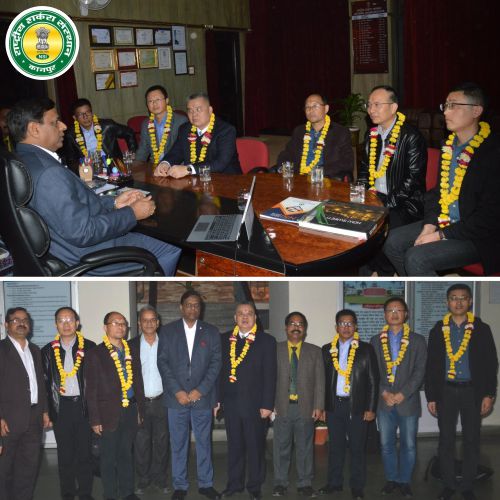 Kanpur: ​A six membered delegation from China visited the National Sugar Institute to look into the academic and research activities so as to explore possibilities of reaching to an understanding for carrying out collaborative work on areas of mutual interest, particularly, for enhancing the sugarcane productivity, technical efficiency of sugar plants and for developing innovative products for higher realization of revenue. The team led by Mr. He Jimin, Deputy Director General & Mr. Zhao Suojon, Dy Secretary General, The People's Government of Liuzhon City, Guangxi had a look into the various facilities available with the institute with respect to academic and research work.
​Earlier welcoming the delegation, Prof. Narendra Mohan, Director, National Sugar Institute gave a presentation about the main functions and current activities of the institute.

In a conversation with ChiniMandi News, Director National Sugar Institute Narendra Mohan expressed his views. He said, "We are working on all spheres from enhancing sugarcane and sugar productivity, energy and water conservation, production of various sugar quality as per market demand and particularly on producing value added products from the by-products of the sugar industry. The delegation took keen interest in the research work done on production Bio-CNG from filter cake and other agro waste and on usage of bagasse for production of surfactants, dietary fibre and particle boards. The Chinese delegation was very much impressed to observe the institute's efforts in developing novel technique of waste water treatment in sugar industry and its further up-gradation to convert waste water to potable water."
He added that the delegation was very satisfied and they believe that Chinese sugar industry and NSI may work on many areas particularly with respect to sugarcane and sugar quality improvement and management, water conservation, ethanol production from various feed stocks and on production of special sugars. They anticipate that if the Chinese sugar industry and NSI, Kanpur join hands, it will be in the interest of the sugar industries as they have 233 sugar mills working on sugarcane and 37 using sugar beet as raw material, but looking to the annual requirement of about 16 million tonnes, China produces only about 2/3rd of it, and import 5-6 millions tonnes of sugar from other countries. The area of concern is the productivity of the factories and the sugar recovery is about 10% less than average sugar recovery in India where we look upon the technologies adopted by the Indian sugar factories.