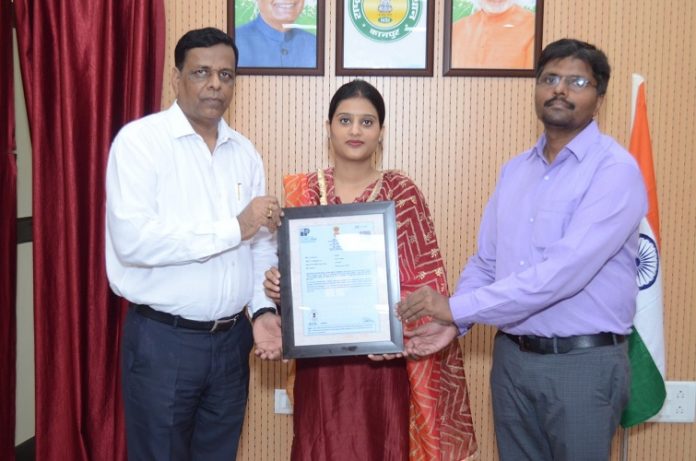 National Sugar Institute, Kanpur got another patent for developing "Non –Ionic Surfactant from Sugarcane Bagasse". The surfactant has very good surface activity and excellent bio-degradable properties and has numerous applications in personal care products, cosmetics including in production of soaps and detergents. The product has been developed by Ms. Anushka Kanodia, Senior Research Fellow under the guidance of Dr. Vishnu Prabhakar Srivastava, Assistant Professor of Organic Chemistry.
Sugarcane bagasse comprises of cellulose, hemicellulose and lignin components. The value added product, chemically known as O-alkyl poly pentoside has been derived from the hemicellulose fraction of the bagasse, said Shri Narendra Mohan, Director. Thus, the cellulose and lignin portions of the bagasse shall remain available for other uses. O-alkyl poly pentoside (APG) is used to enhance the formation of foams in detergents. It is also used in the personal care industry because it is biodegradable and safe for sensitive skin.
We have derived the bio-product by glycosylation of sugarcane bagasse using fatty acids, subsequent filtration to remove cellulose and lignin, neutralization of filtrate with sodium hydroxide and then distillation under controlled conditions to get the product, said Dr. Vishnu Prabhakar Srivastava. It took us more than three years to derive the product after series of experiments, he said.
The product is expected to cost about one-third to the prices of such products commercially available in the market @ Rs. 160-200 per kg. Our yield from sugarcane bagasse has been about 12-15% which may further improve resulting in further lowering of cost of production, said Ms. Anushka Kanodia.
The institute shall market the technology developed through National Research Development Corporation and organization of Ministry of Science and Technology said Shri Narendra Mohan, Director.