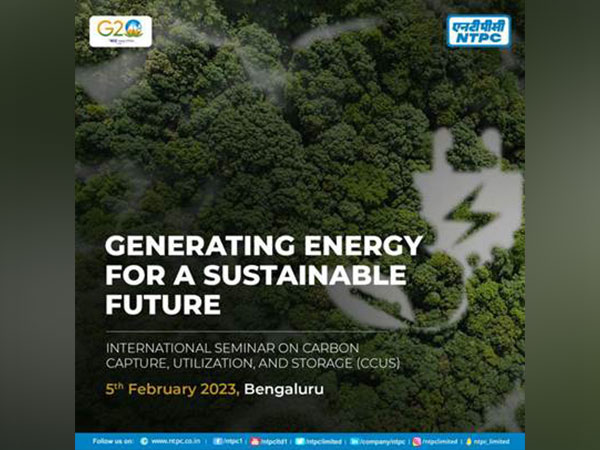 New Delhi [India], February 4 (ANI): India's largest integrated power utility NTPC on behalf of the ministry of power will be hosting a side event in form of an international seminar on Carbon Capture, Utilization & Storage (CCUS) on February 5, 2023, at Taj Westend, Bengaluru.
This seminar is likely to be attended by industries, policymakers, scientists and academicians of different countries, according to a statement from the ministry of power.
India has assumed the presidency of G20 from December 1, 2022, for a period of one year.
In its presidency, the first Energy Transitions Working Group (ETWG) Meeting is scheduled to be held from February 5-7, 2023.
The seminar will focus on underlining the importance of CCUS for achieving "clean energy transition" and subsequently moving towards net zero.
The goal is to reduce one billion tons of total projected emissions by 2030 and bring down the country's carbon intensity to less than 45 per cent.
Carbon capture and sequestration is the process of removing CO2 from the waste gas from industrial or power generation processes.
There are many options for doing this, using specific chemicals called solvents and sorbents which have an affinity towards acidic gases.
Solvents are a heterogeneous group of structurally diverse chemicals that can be used to dilute, dissolve, or disperse other compounds.
Sorbents are insoluble materials or mixtures of materials used to recover liquids through the mechanism of absorption, or adsorption, or both. Absorbents are materials that pick up and retain liquid distributed throughout its molecular structure causing the solid to swell (50 per cent or more). (ANI)