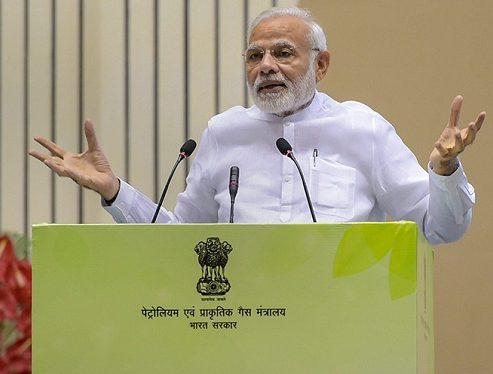 Prime Minister Narendra Modi today set a target to triple ethanol production in four years to help save Rs 12,000 crore in oil import bill by mixing the sugarcane extract in petrol as well as boost farm income. Speaking at a function here to mark World Biofuel Day, he said about Rs 10,000 crore is being invested in setting up 12 bio-refineries in the country that will produce fuel from crop stubble and residue as well as urban waste.
"Biofuels can help reduce import dependency on crude oil. They can contribute to a cleaner environment, generate additional income for farmers and create rural jobs," he said. Modi said fuel generated from sugarcane and crop residue not only gives additional income to farmers but also helps the environment by the safe disposal of farm stubble.

The world's third largest oil consumer is dependent on imports to meet 81 per cent of its needs and substituting some of the fuel with biofuels will help cut import dependence.
India started blending ethanol, produced as a by-product during the process of making sugar from sugarcane, in petrol during the first NDA regime in 2002. But the programme slowed almost to a grinding halt in the 10-year rule of Congress-led UPA.
Modi said the programme to mix ethanol in petrol was revived when the BJP-led NDA came to power again in 2014. "As a result of the efforts of the Centre, ethanol blending in petrol increased from 38 crore litres in the ethanol supply year 2013-14, to an estimated 141 crore litres in the ethanol supply year 2017-18," he said, adding this saved close to Rs 4,000 crore in oil import bill.
The target, he said, is to raise ethanol production for doping in petrol to 450 crore litres in four years that will save Rs 12,000 crore in import bill. India spent nearly USD 88 billion (about Rs 5.9 lakh crore) on import of crude oil in 2017-18.
"Our target is to raise blending of ethanol in petrol to 10 per cent by 2022 and to 20 per cent by 2030," he said. Currently, petrol contains 3.8 per cent of ethanol. The bio-refineries being set up will generate about 1.5 lakh jobs in the entire value chain, he said.
Also, the government approved the National Policy on Biofuels in June this year which seeks to produce fuel that can be doped in petrol and diesel from agriculture and municipal waste as well as crop residue, he said.
Fuel is targeted to be produced from crop stubble, which otherwise is burnt every year causing pollution and erosion in soil's nutrient value. It can also be produced from damaged crops, he said, adding efforts are on to also generate fuel from urban waste as well as bovine excreta.
He said bio-CNG generated from cow dung can be used as a fuel in transport vehicles to cut petrol and diesel consumption. "Biofuels have synergies with various government initiatives, including enhancing farmers incomes, and Swachh Bharat," he said.
Listing measures of the government on using environment-friendly fuel, he said recycled plastic is being used in road construction while electricity generated from solar panels is being extensively promoted. Besides, LED bulbs are replacing conventional lighting in railways and ports, he said.
As many as 5 crore cooking gas LPG connections have been given to poor women households in the last two-and-half years to give them smokeless kitchens, helping improve their health and environment, he said.
Modi said his government has raised minimum support price or MSP for 14 kharif (summer season) crops, fulfilling the promise of giving a rate that is 50 per cent more than the cost of production. Responding to critics that the increase was not commensurate with the promise, he said renowned agriculture scientist M S Swaminathan has in a recent article praised the government's steps to boost farm income.
Also, the Fair and Remunerative Price (FRP) for sugarcane for 2018-19 crop year has been hiked by Rs 20 to Rs 275 per quintal and it now gives 80 per cent profit over the cost, he said. "This enhanced rate will benefit crores of farmers," he said.
The Prime Minister said schemes such as Jan Dhan, Van Dhan and Gobar Dhan are helping to transform the lives of the poor, the tribal population and the farmers. He said the transformative potential of biofuels can be realised only through the participation of students, teachers, scientists, entrepreneurs and the people.
He urged everyone present to help take the benefits of biofuel to the rural areas. The Prime Minister also released a booklet on 'National Policy on Biofuels 2018'. He also launched the 'Proactive and Responsive Facilitation, by Interactive and Virtuous Environmental Single-window Hub' (PARIVESH), a web portal for speedy environment clearance of projects.