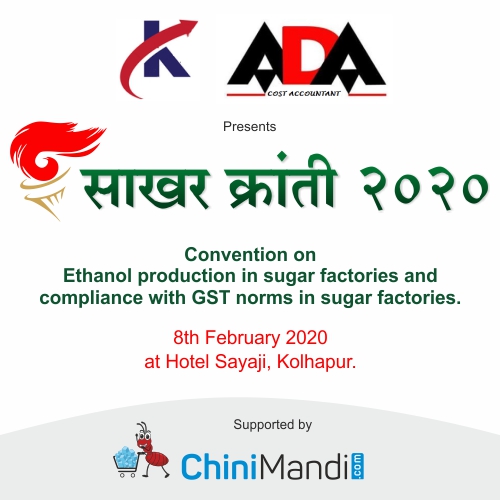 Kolhapur: With ethanol providing an additional revenue stream for the sugar sector, more ethanol capacities are likely to be added in the coming years reducing the excess supply of sugar in the market. Also, helping mills get stronger financially, strengthen the prices of sugar, and assist the Central Government's vision to achieve 20% ethanol with petrol by 2030. Many companies have stepped forward to expand or add new capacities.
This time, sugar mills have bet a thrust on Ethanol and are inquisitive to find the apt way on how Ethanol will prove to be an elixir for Sugar Industry. KDAM & Associates, has organised a State level Seminar "Sakhar Kranti 2020" for all the stakeholders of the Sugar Industry in Maharashtra at Hotel Sayaji, Kolhapur on 8th February 2020 where the panel experts would throw light on the benefits of Ethanol manufacturing and future tactics to make the business profitable.

In conversation with ChiniMandi News, Mr. Ashish Deshmukh – Partner-KDAM & Associates expressed his views on the event taking place. He shared that, "Proper understanding of Rule 42 / 43 of GST Act would result into substantial savings in the working capital of sugar mills. There would be a separate session on Rule 42/43 of GST Act and GST Audit conducted by GST Expert – CMA Mahindra Bhombe. Working capital management will also be presented by the Mr Jaydeep, Director- BUZI Sugar, Nr Buzi River Dam in Buzi District, Sofala Province, Mozambique, Africa."
He added that there would be a group of eminent speakers during the event where topics like, Global trend, Automation in the Sugar Industry etc. will be deliberated on.
The program is to be inaugurated in the hands of Mr Balasaheb Patil, Minister (Cooperation and Marketing) and Mr. Saurabh Rao, Sugar Commissioner of Maharashtra state.
The event is open for MDs, Chief Accountants, Distillery managers, Engineering Heads, Knowledge seekers etc from the Sugar Industry across Maharashtra.
For registration or more details, contact 7758060463
 To Listen to this News click on the play button.