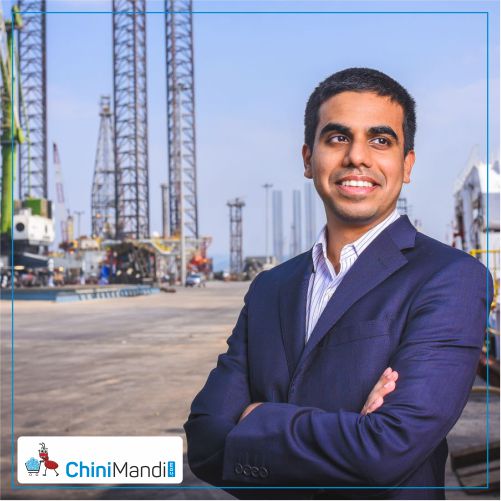 As the world combats with the coronavirus pandemic, the maritime transport industry in India is playing critical post invoking force majeure on the grounds of COVID-19. Articulating ports with other countries on trade, has been hit by a sharp drop in volumes leading to disrupted supply around the world leaving uncertainty on how long it will continue.
In conversation with ChiniMandi News, Mr. Eshaan Lazarus, Executive Director, Angre Port Private Limited expressed his views on the how things at ports have been taking shape and his views on the outlook.

Excerpts:
Q. How do you see the trends in the exports taking place despite a lock-down nationwide?
A: The COVID-19 pandemic has caused disruptions across sectors bringing exports to a sluggish pace. Although ports, being an essential service, are working nationwide, almost all ports have declared force majeure, due to movement of men and materials to and from the port being heavily restricted, thereby severely impacting load and discharge rates, as well as causing bunching of both vessels and cargo to and from the ports. There are other limitations such as 14-day mandatory quarantine of vessels arriving from certain countries before they can berth at ports.
This has caused delays in operations and even cancellations of vessel calls; however, it is a precautionary measure in the interest of public safety and is an absolute must. We at Angre Port are committed to ensuring all cargo is handled appropriately by adhering to all the precautionary norms laid down by the concerned authorities.
To the contrary, the Trade Promotion Council of India (TPCI) indicated that there is a surge in demand for food products in global markets due to coronavirus outbreak, and India has the potential to tap this in order to boost its exports. Angre Port, being in the midst of the Konkan agricultural belt, is ready to provide vital support in terms of logistics and infrastructure to cater to this spike in demand, and willing to work with all exporters who have their cargo, especially sugar, originating in its hinterland.
Q. According to you, which segments in exports have been hit the most?
A: The United States and Europe accounts for roughly half of India's garment export. With both regions being declared the new epicenter for the disease by the World Health Organization, new orders are bound to be affected. Given the current scenario exports in this segment has witnessed a 35% drop. Apart from apparels, consumer durables and electronics has witnessed a decline with mobile shipments seeing a 15% reduction in exports. Seafood that is exported majorly to US, European Union and China has also witnessed sluggish exports.
We have also seen that in exports to China most affected sectors are shrimps and prawns along with spices which together account for around 70 per cent of our farm exports to China. Other agriculture products that may be hit include processed guargum, cereals, groundnut and castor oils, jams and jellies, sugar etc.
For Italy the worst-affected is coffee, which contributes almost 50 per cent of India's exports to Italy, followed by marine products, basmati rice and vegetable oil.
Q.What is the current situation of export handling, are the operations normal or are there delays?
At Angre Port, we provide end to end logistics solutions for many of our clients, delivering their cargo from origin to destination. Having a single provider with a long term contract and guaranteed service levels across the value chain allows supply chains to be immune to transportation rate fluctuations, frees up the supply chain team's time to focus on other higher priority areas, and greatly reduces the need for storage space at client locations, since clients can stock cargo at the port, and we supply it to them within a guaranteed lead time. Our clients are increasingly opting for such a working model due to these benefits.
This model of end to end logistics solutions has become more relevant to our customers given the current scenario. While there are a few delays due to situations beyond one's control, our clients are assured that their cargo is in safe hands and moving at the fastest possible rate from origin to destination.
Despite the challenges that the current situation has brought in, we are working closely with all our vendors and partners to ensure that service levels to our clients has only seen a marginal impact from what has been committed. We are also in close contact with the local authorities on our client's behalf to ensure that their operations remain unaffected to the extent possible, thereby ensuring that the vital agricultural supply chain remains in place.
Q.With respect to the sugar industry, how do you see the exports taking shape?
Export of sugar and other essentials to countries affected by COVID-19 are impacted more than others. Having said this, sugar being an essential commodity will continue to witness exports from India in smaller quantities containers, if not bulk, to various destinations lesser affected by the virus.
It is believed that once the pandemic subsides there will be a surge in demand for all essential commodities all over the world. Our hinterland should be in a position to take advantage of that situation to catch up on the lost opportunities and plug the export volume deficit. The surplus rains that Maharashtra saw last year, which caused floods and therefore crop losses, have filled all the water reservoirs in the state to the brim, which should pave the way for a bumper sugar crop and therefore higher exports in the upcoming season.
Q. What is the commodity-wise volume February 2020 vs. March 2020 till date?
A: Generally, in March, import volumes slowdown in line with the year-end financial cycle. Therefore, March volumes have been muted in keeping with yearly trends. However, we believe April will give us a better base for comparisons.
Q. Which commodities do you continue to see as potential export drivers in spite of Covid-19?
A: With the Government having announced a complete lockdown for 21 days, the first priority of the nation is towards securing the lives and health of its citizens, including ensuring that all citizens have adequate access to food and other essentials. This would result in a slowdown or even a restriction of exports of commodities like foodstuffs, medicines, PPE etc. that might otherwise be exported due to Corona linked demand from other countries.
Once India tackles the virus and manages to contain its spread, it can look at capitalizing on a large number of engineering and manufacturing exports to fill up the market vacated by China, or by global companies looking to de-risk their supply chains via a backup supply option to China. The same can be said of products like leather and leather goods, as well. There is also an opportunity for the agriculture sector to capitalize on reduced exports coming out of China. However, this will primarily depend on how India contains COVID-19, and how fast we are able to bounce back from the economic slowdown.
To conclude, once the world rolls back to normal pharmaceutical products, agricultural products, food consignments, essential commodities, garments, chemicals etc. will see a larger demand upsurge along with other commodities and generally exports will pick up to larger levels than earlier.