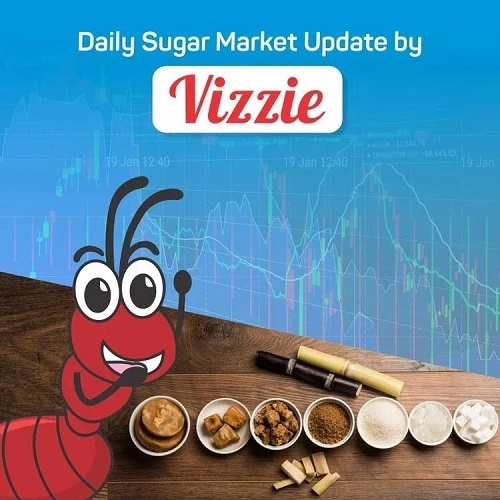 ChiniMandi, Mumbai: 27th May 2023
Domestic Market
Sugar prices in the domestic market reported steady
Sugar prices in domestic market reported steady amid thin trading activity. Muzaffarnagar (M grade) sugar prices rose by Rs 10 per quintal to Rs 3,630-3,640 per quintal, while Kolhapur (S grade) sugar prices remained stable at Rs 3,400-3,440 per quintal.
Sale quota for the month of June is expected to be at 23.0 lakh tons, 1.0 lakh tons higher than the last year, to keep prices under check.
According to Agrimandi.live, prices will continue to rise due to strong demand, with little room for decline. Prices in the Kolhapur markets are expected to trade towards Rs 3,480 per quintal in the near future.
Ex-mill Sugar Prices as on May, 27 2023 :
State

S/30

[Rates per Quintal]

M/30

[Rates per Quintal]

Maharashtra

₹3385 to 3395

₹3485 to 3495

Karnataka

₹3550 to 3575

₹3625

Uttar Pradesh

₹3595 to 3705

Gujarat

₹3511 to 3561

₹3591 to 3631

Tamil Nadu

₹3550 to 3600

₹3700

Madhya Pradesh

₹3545 to 3585

₹3615 to 3655

Punjab

₹3660 to 3701

(All the above rates are excluding GST)
Destination-wise Spot Prices as on May, 27 2023 :
| | | |
| --- | --- | --- |
| City | Grade | Rate |
| Delhi | M/30 | ₹3,885.00 |
| Kanpur | M/30 | ₹3,832.50 |
| Kolhapur | M/30 | ₹3,701.25 |
| Kolkata | M/30 | ₹3,969.00 |
| Muzaffarnagar | M/30 | ₹3,816.75 |
News Round-Up
Shree Renuka Sugars reports net profit of Rs 42.8 crore in Q4
Shree Renuka Sugars reports net profit of Rs 42.8 crore in Q4
Sugarcane cutters to agitate for various demands
Triveni Engineering focuses on expanding ethanol capacity
PM Modi to chair 8th NITI governing council meeting today
Net profit for FY23 is the highest since inception: Oil India
Net profit for FY23 is the highest since inception: Oil India