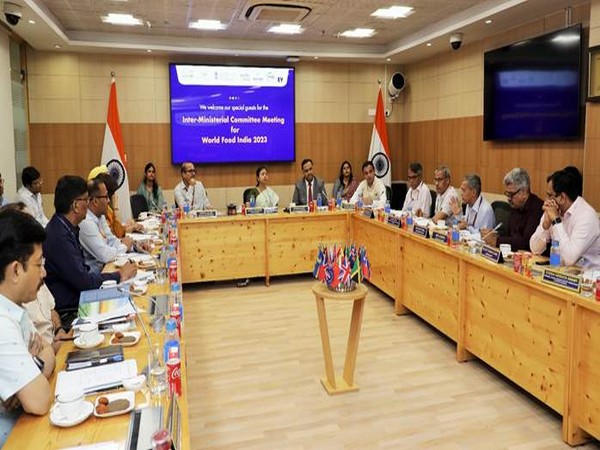 New Delhi [India], May 18 (ANI): Secretary at Food Processing Industries Anita Praveen chaired the First Inter-Ministerial Committee Meeting with senior representatives from Ministries, Departments, and various Boards this week in New Delhi.
The second edition of World Food India is set to be organised by the Ministry of Food Processing Industries in the first week of November, 2023.
The agenda of the committee meeting was to apprise the officials of the preparation made so far for World Food India 2023. This was in continuation to a series of interactions held to apprise the Ministry's plan of action for the upcoming World Food India 2023 and discuss potential areas of collaboration. The roundtable witnessed participation from the senior officials of key central government ministries and departments.
During her address, Secretary, FPI requested the officials to share a specific plan of action regarding their participation/partnership in the Mega Food Event.
All central ministries and departments were requested to share suggestions on the planned sessions of World Food India and participate in the event activities as well as support the Ministry in awareness creation on the relevant Department's social media handles, embark participation of senior policymakers, industry members, SHGs and all relevant stakeholders to make the event a grand success.
A curtain raiser event was held here this week, where Union Minister of Food Processing Industries Pashupati Kumar Paras, and Union Minister of State for Food Processing Industries and Jal Shakti Prahlad Singh Patel, launched the website, publicity brochure and promotional video.
Minister Paras then emphasised that India is one of the fastest-growing economies with many investment opportunities, especially in the food processing sector.
He outlined five pivotal elements of the WFI-2023 as Millets- 'Shree Anna-The Super Food of India', Innovation and Sustainability 'Green Food', White Revolution 2.0, making India an export hub and focus on technology and digitisation.
Notably, the International Year of Millets 2023 officially kicked off on January 1, 2023, and much of the focus will be on millets at the WFI 2023.
The government of India under Prime Minister Narendra Modi spearheaded the United Nations General Assembly (UNGA) resolution for declaring the year 2023 as the International Year of Millets and India's proposal was supported by 72 countries. UNGA announced 2023 as the International Year of Millets back in March 2021.
India is a global leader in the production of millets with an area of about 12.5 million hectares and a share of more than 15 per cent of the world's total production. Rajasthan, Uttar Pradesh, Haryana, Gujarat, Madhya Pradesh, Maharashtra, Karnataka, Tamil Nadu, Andhra Pradesh, and Telangana are the major millets producing states. (ANI)