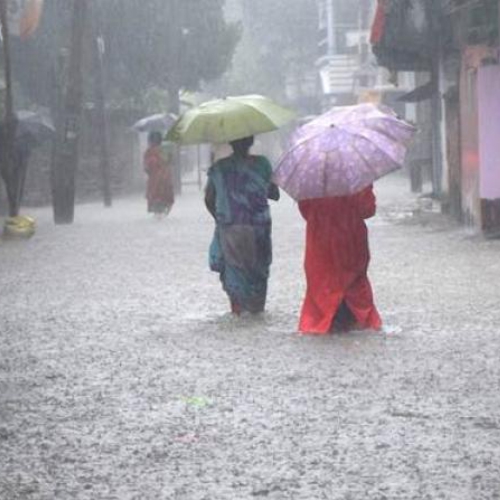 Ahmedabad: Recently, With the heavy rain in the various parts of Gujarat, life had been thrown out of gear. However, since the last few days, rain activities have reduced in the state. But according to the weather forecast, it is likely to hit again.
In the last five days, the rain was almost dry over the state. But now according to Skymetweather.com, due to a Cyclonic Circulation over the Northeast Arabian sea along with a Low-Pressure Area over Madhya Pradesh, rains are expected to increase over Gujarat.

The major cities Ahmedabad and Vadodara witnessed light rains in the last 24 hours, whereas moderate rains were received over Sabarkantha and its adjoining areas.
Recently, when the state was hit by heavy rain, then it almost paralysed the major affected districts, and also many people died due to rain-related accidents.
As per Skymetweather.com, irregular rain activities will be seen in Gujarat untill August 28. It will be more over the central and northern districts of the state. Whereas, the southern districts will witness fewer rains in comparison to other divisions of the state.
Recently, heavy rains across India claimed many lives this monsoon. As per reports, already around 1,058 have lost their lives due to heavy rain and flood. Due to the monsoon fury, in Kerala, over 150 people have died. Floods and landslides in Karnataka have killed at least 94 people. Most number of death is recorded in Maharashtra, where floods have caused extraordinary damage.
Flood not only claimed lives but it also caused damage to the properties, crops and others worth thousands of crores. Industry bodies and political parties have also assessed the situation and suggest that only in Maharashtra flood caused the estimated loss of at least Rs 10,000 crore following the closure of industries, severe damage of crops, and others.
To Listen to this News click on the button below the image.