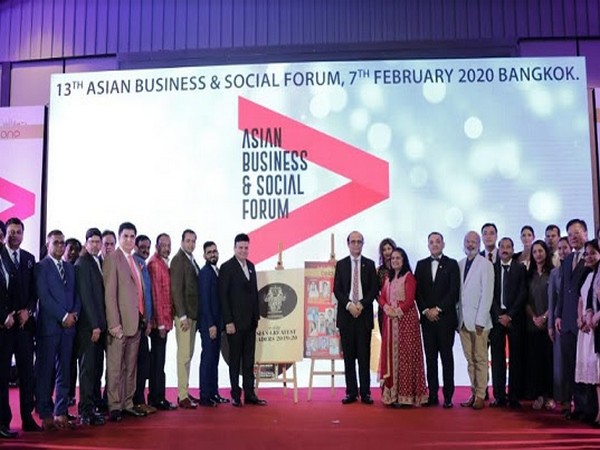 New Delhi [India] Feb 15 (ANI/NewsVoir): AsiaOne Magazine & URS Media organized a Networking Meet called 'India-Thailand: Today, Tomorrow, Together' on February 6, 2020, in collaboration with the India Thai Chamber of Commerce (ITCC) at their premises at Sathon, Bangkok, which was a prelude to the gala business summit namely the 13th Asian Business & Social Forum 2020, held on Friday, February 7, 2020, at the Marriott Marquis Hotel, Queen's Park, Bangkok.
The exclusive networking meet of February 6th saw the presence of eminent dignitaries such as Abhisit Vejjajiva, the former Prime Minister of Thailand and Suchitra Durai, the Ambassador of India to the Kingdom of Thailand, who shared their insights about further enhancing the cordial ties between the two nations. Bent on promoting Asian brands and leaders throughout the world, URS AsiaOne Magazine endeavoured to enhance the cordial relations between the two countries through its summit – 13th Asian Business and Social Forum and attempted to highlight the fact that India and Thailand share a strong historical and cultural connect.

"Thailand and India should leverage their new land link to strengthen ties when the 1,360-kilometre trilateral highway is completed next year", asserted Abhisit Vejjajiva.
"We have to bring Myanmar along and use all platforms to drive this forward. Land connectivity will make a real difference not just in terms of physical transportation but also to bridge a psychological gap that exists between Thailand and India because we don't share a land border", he further added.
Talking about the bilateral trade between the two countries, the Indian ambassador Suchitra Durai said that they are doing "reasonably well" and invited "Thai companies to come and invest in India".
"Around 2 million Indian tourists visit Thailand every year" and hoped that "more Thai people will go to India", she added.
The meet was followed by the 13th Edition of Asian Business & Social Forum 2019-20 & fourth Edition – Asia's Greatest Brands & Leaders 2019-20, which was held at The Marriott Marquis Hotel, Bangkok, Thailand on February 7, 2020.
 To Listen to this News click on the play button.