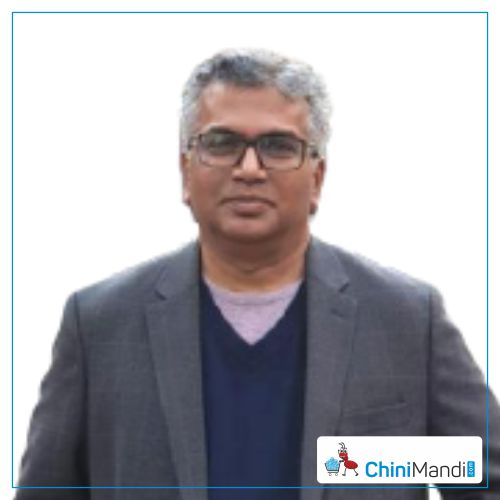 India's Sugar policy right from the pre-independence era of 1932, has been rooted in ensuring better prices to the growers, efficient operation of the installed crushing capacities besides ensuring availability of adequate sugar at affordable prices as 'sugar' had since been considered as an essential food commodity carrying a significant 1.2 percent weightage in the WPI inflation basket with only paddy the food commodity carrying a weighted higher than the same. India's Sugar largely produced out of sugarcane made it one of the key cash crops over time grown in both the tropical and subtropical climates of Southern and Northern states of India blessed with plentiful supply of water largely from River and canal irrigated areas. Considering an efficient grower, every kilo of sugar produced needs about 2000 litres of water and with 22 million tons of sugar production, sugar/sugarcane production needs significant water requirements amidst its competing crops and other industrial uses. Further the phenomenon of Global warming/Climate Change leading to El Nino or La Nina aggravates the crop performance and hence the income levels of the growers.
With the second largest population in the world of 135 crores, India also home to about 8 crores of diabetic population, who will have to control/regulate their intake sugar/carbohydrate intake with a significant percentage of them in productive age with limited sugar consumption. Additionally, the lifestyle and health concerns of a large part of the health-aware urban population is actively shifting their consumption into sugar alternatives and unrefined forms of sugar leading to lowering of demand from the ever-growing urban population with reduced energy needs. As the population shifts from rural to urban areas and as many of large part of manual work is now being taken up by the machines from man, energy needs and hence per capita sugar consumption of the population had come down significantly challenging our thought process behind sustaining the large sugar industry which has always been dependent in the last decade or so on exports as we had excessive production except for one instance. This too could have been saved if the stored sugar can be carried over to the next year in the books of government had we had a policy for strategic storage and better prediction of monsoon. Further, due to the large and bilateral dependency between the sugar mills and cane growers and their economic sustenance, government had been continuing FRP in addition to SAP as a first level of government intervention into sugar economics leading to booming cane arrears by the sugar millers leading to disruption of cropping decision by the farmers fueling fluctuations in the cropped area leading not only to the sugar supplies but also the profitability of the millers who tend to keep arrears in farmers payments. While sugar prices over the last few years have been left to the forces of markets with minimal government intervention, cane prices are government mandated. Under such a macro economic condition of the Sugar economy it needs that policy makers undertake various reform measures on a gradual basis.
While these were challenges of sugar production and sugarcane cultivation at the macro-economic level, at the micro-level productivity and hence the incomes of the farmers and the profitability of crushers at the regional level have always been an issue. Especially, with the farmers in the tropical region having very low productivity are continuing to grow as there is an assured buyer in the form of crusher in the region and they are accustomed to cane cultivation more than any other crop. On the other hand, the assured prices announced in advance of the harvest gives them a false sense of security, and farmers often end up in late realization of proceeds as per the payment capability of the crushers which are a function of the operational finances of the respective crushers. Furthermore, cane is another crop which badly needs investment in terms of drip irrigation and mechanization to tackle the problem of water and labor which have perennially kept a large part of migrants in an otherwise low-productivity agriculture. Despite the connection that the crushers with access to formal modes of finance and their ability to assist the farmers in enhancing productivity and mechanization have also minimized their intervention leading to stagnation in the productivity levels and hence income realization besides impacting labor availability/timely harvest and hence juice recovery rate. Sugarcane cultivation and its close dependence on the crushers further makes the conundrum complex which means that the policy makers shall never attempt to resolve the problems in the sugar industry.
Untangling the policy conundrum
In this regard, the relevant point to start is the Rangarajan Committee. If we were to take it from a macro perspective to the micro perspective firstly we need to strengthen the overall Sugar economy which goes through the price cycles which either makes the growers poorer or the crushers' profitability deteriorates. Caught between state mandated prices of cane and state-controlled sugar prices, crushers are often sandwiched between falling sugar prices and high cane prices which are mandated by the centre. First and foremost, the priority for the policy makers should be to free sugar pricing and internationalize Indian sugar markets as the domestic sugar consumption has been falling in response to increasing urbanization and the adoption of a healthy lifestyle. This will tightly integrate Indian markets with the International markets while liberalizing international trade in Indian sugar. As this integration happens, it may make domestic prices of sugarcane closely interconnected to the International prices which may mandate the absorption of crushing differential through a subsidy regime. Measures such as export subsidies for which the Government is pressurized irrespective of the export competitiveness of sugar and the crusher will be a thing of the past as the markets are left to integrate. While the Indian sugar markets integrate with the International markets, it is essential to identify low productivity regions to actively promote crop diversification besides capital subsidy to convert cane crushers in the low cane productivity areas of tropical India to other profitable agro/processing activities. Such diversification may be actively directed towards crops such as oilseeds through policy measures in an effort to make India 'Aatmanirbhar' in edible oils slowly but steadily. Policy makers shall slowly do away the catchment area protection to increase competition amongst the crushers as recommended by the Rangarajan committee alongside as farmers determine whom to supply based on their financial wellbeing which may be promoted by way of a rating scheme based on their past cane payment behavior and their balance sheet/governance related factors.
While it promotes active competition amongst the crushers, farmers stand to benefit by way of prompt payments to take care of their end of season financial obligation. Mills shall be actively promoted to hedge their sugar prices in derivative markets and time their sugar sales in the domestic and international markets while preventing formation of cartels.
Government shall procure sugar at prevailing market prices and hold it as e-NWRs to intervene in the market whenever the domestic market moves away from the international markets due to collusion among sugar millers/traders or the international prices move beyond politically comfortable level. Mills can be empowered to hold sugar and raise finance against the same through hedging and pledging by way of mandating their warehouses to be WDRA accredited and encouraging e-NWR based funding against sugar stocks with a special incentive of lower haircut against hedged sugar stocks at the priority sector rate. This will ease the operational funding requirements of the sugar millers promoting timely cane payments to the growers.
Setting up of Indian Sugar Corporation
Government may set up Indian Sugar corporation which will take care of activities related to strategic sugar procurement, sugar price management in domestic markets and active surveillance of sugar/cane fundamentals. It will also provide a market-based policy regime for Sugar to be mandated by the government. Corporation shall also announce the floor prices for cane based on prevailing long-term price scenario in the domestic markets. Indian Sugar corporation can also undertake hedging activities and empower small crushers through organized programs to connect them with the derivative markets and provide for a fixed price realization in advance. It shall also be mandated with development of sugar derivative markets in the Indian commodity derivative exchanges especially in terms of volumes in terms of long-term contracts so that hedgers may need to protect only for the sugar price and not the foreign exchange which is essential in the case of hedging activities If taken up on foreign exchanges. With a well-integrated and hedged position of stakeholders in domestic markets, farmers will only be encouraged to grow cane in the areas where crushers are giving them contracted prices and its feasibility. This will promote active flow of information between the markets and its stakeholders for development of efficient derivative markets.
At the micro-level, the proposed sugar corporation should work with regions with low cane productivity and the crushers to actively divert the farmers and the crushers into alternative cropping and economic activities. It can work with the respective state government agricultural departments to accomplish the same. Besides, it can work with the crusher to divert his assets towards other possible alternate economic activities assisting him in the endeavor with capital subsidies and soft assets. In a nutshell, proposed sugar corporation should work as an autonomous entity led a leader who effectively work towards internationalizing Indian sugar markets, managing prices in the domestic markets balancing the interests of farmers/crushers/consumers, weaning away the farmers form productivity areas into alternative agricultural activities, and leading the sugar economy from its dependence on subsidies right from farmers/crushers/exporters to consumers.
About Dr.V Shunmugam
Dr.Shunmugam started his career looking into Indian agricultural commodities, markets, trade policy/issues and reporting and forecasting the market statistics at the macro level for the United States Department of Agriculture. He has also developed skill sets in policy and regulatory advocacy including product development in markets and agricultural value chains including storage. Dr.Shunmugam has also actively worked in commodity derivative markets recently resulting in policy and regulatory guidelines for institutional participants besides setting up mechanisms for their seamless participation.
The opinions expressed in this column are that of the writer. The facts and opinions expressed here do not reflect the views of www.chinimandi.com