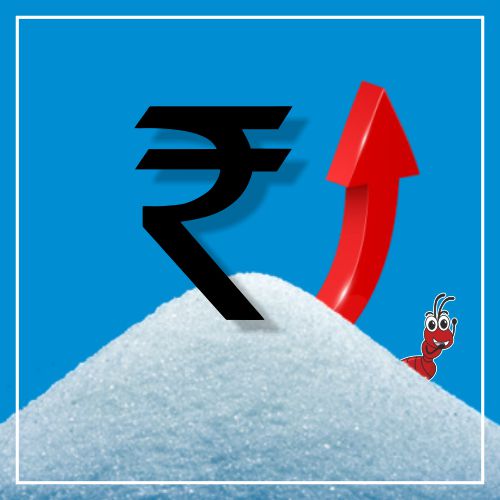 The Minimum Selling Price of sugar has remained static for more than 30 months despite Fixed Remunerative Price (FRP) for cane increased by ₹10/quintal during the 2020-2021 sugar season. Recently the Government has once again increased the FRP by ₹5/quintal. Industry apex body ISMA feels it is the right time for the Government to decide on increasing the MSP to ₹34.50 to ₹35 per kilo which currently is at ₹31 per kg.
In a letter to the PMO by ISMA, the organisation brought to light various aspects that justify the immediate increase in MSP of sugar mainly with an increase of 10- 15% in the cost of inputs, raw material, salary and wages, maintenance cost etc. making it more difficult for the sugar mills to clear the cane payments. The letter also spelled out that around 80% (or even more in some cases), of the total revenue of a sugar mill / company comes only from sugar, and that the by-products like power, ethanol etc. contribute for 15-20% of the total revenue. Therefore, the understanding that the help of the Government in other aspects, including ethanol, is enough to compensate for lower sugar price realization, may not be correct. Also the revenue realization would nor longer be adequate to enable millers to pay the cane price to the farmers, as fixed by the Government, and / or repay the loans of the Banks on time.

ISMA is seeking a hike of ₹3-4 per kilo, which would enhance the valuation of sugar considered by the Banks to extend working capital loans to us would also increase. That, in turn, should give millers an additional working capital / cash flow of ₹10-12,000 crore and bring ease in making payment to the farmers on time in the next season.
Furthermore it was also clarified that the ex-mill prices which were hovering around Rs. 31-32 per kilo since October 2020 till July 2021, have improved slightly in the month of August 2021 and are currently at around Rs. 35 per kilo owing to the festival season.
The below table exhibits that even when the ex-mill prices move significantly over a
period of time, the retail price at which sugar is sold to the consumers, do not move
in the same proportion. In fact, lower ex-mill sugar prices gives abnormal profits to
the wholesalers and retailers because the retail prices are not known to drop as
much. Similarly, when the ex-mill prices increase, the retail prices do not increase
at the same proportion because there was already a large gap between ex-mill
price and the retail price earlier. Therefore, increase in the MSP will not cause any
uncomfortable increase in the retail price.