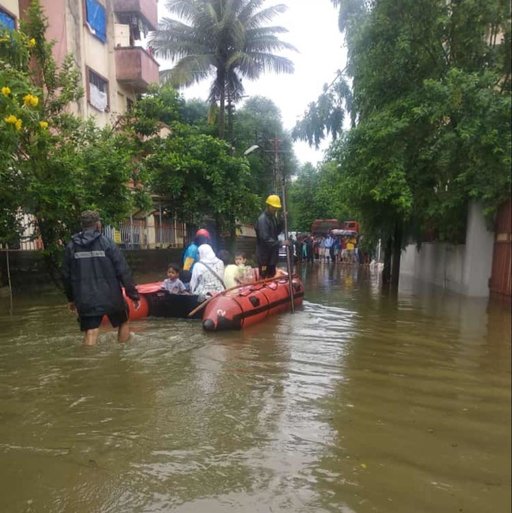 Kolhapur, August 8: As the monsoon is getting stronger in most parts of the country, many states of India are affected due to flooding. Monsoon gained unexpected momentum in August, which has affected several areas in Southern Maharashtra like Kolhapur and Sangli. As per government data, more than 133,000 people have been evacuated from Kolhapur, Sangli, Pune, Satara, Ratnagiri and other areas. Monsoon has broken all previous records in Kolhapur and there is more likely rain in coming days.
Here are the updates:

8.21 pm: Cabinet Secretary holds meeting to review flood situation in Indian states. Rescue & relief operations to be scaled up in view of weather forecast.
7.23 pm: Raining has stopped in Kolhapur and nearby areas.
4.41 pm: Trains cancelled: Mumbai-Kolhapur-Mumbai, Mahalakshmi Express cancelled from 8 till 11 August.
4.40 pm: Trains cancelled: Mumbai-Kolhapur-Mumbai, Sahyadri Express cancelled from 8 till 11 August.
4.10 pm: 24 people rescued by navy personnel in Chandgad taluka, Kolhapur.
3:52PM: Maharashtra CM assures compensation for farmers affected by flood situation in Kolhapur.
2:26PM: Maharashtra CM spoke to Karnataka CM B. S. Yediyurappa and he has agreed to release 5 lakh cusecs water from Almatti dam. This should bring down water levels in Sangli and nearby areas.
1:24PM: Maharashtra CM Devendra Fadnavis along with other ministers begin aerial survey of flood affected areas in Kolhapur and Sangli.
12:59PM: More NDRF teams have reached Pune and are on way to Kolhapur.
Flood rescue operations update:
Another 5 NDRF teams reached Pune & 2 teams are on way to Kolhapur, 2 on way to Sangli & 1 Pune.

2 more teams of Coast Guard reaching Kolhapur in some time.
5 Navy teams are on way to Sangli with 2 SDRF teams.
State has demanded 5 more NDRF teams.

— CMO Maharashtra (@CMOMaharashtra) August 8, 2019
12:54PM: Total 22 teams are working in Kolhapur rescue operation (NDRF-5, Navy-14, Coastguard-1, Army column-1, SDRF-1).