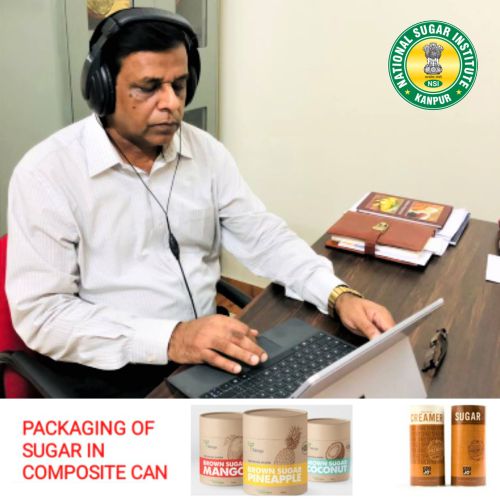 Kanpur: Two days online training programme on "Supply Chain Management in Sugar & Allied Industries" organized by the institute concluded today with experts stressing on need for adopting measures for hygienic processing, consumer & environment friendly packaging and automation of warehouse operations. Prof. Narendra Mohan, Director, National Sugar Institute, Kanpur called upon the sugar industry to undertake packaging of sugar from 1 kg consumer packs to 1 ton jumbo bags for export of raw sugar. We are also required to adopt "Good Manufacturing Practices (GMP)" and "Hazard Analysis & Critical Control Points (HACCP)" keeping in view sugar being an essential commodity and growing consumer awareness about quality of food products due to Covid-19.
Mr. Madhab Chakraborty, Joint Director & Regional Head, Indian Institute of Packaging, New Delhi elaborated various techniques of packaging as per quantity and quality of the sugar to be packed. Sugar is hygroscopic and deteriorates with passage of time. With the growing market of special sugars viz. brown sugars, icing sugar and other fortified sugars where sugar is blended with other additives, the packing is to be accordingly modified for better shelf life and ease of transportation. He detailed various such packaging in paper bags, paper board carton, single dose paper pouch and rigid glass bottles, composite cans and jute bags.

Shri Brajesh Singh, Technical Officer, National Sugar Institute, Kanpur made a presentation about automatic weighing and dispatch control of sugar from warehouse. By the implementation of RFID (Radio-frequency Identification) it would be possible to minimize the cost of movement of goods within warehouse, maximize the effective use of space, equipment, labor & keep track of all items correctly. In the system, Automatic bagging will be done and the sugar bag will be tagged with RFID based tag having all the required data viz. Moisture, Temperature, Date and time of Packing , Weight, etc. as required. This will result in better control of warehouse and developing confidence amongst consumers about the product, he said.
Shri R L Tamak, Executive Director & Chief Operating Officer (Sugar), DCM Shriram Ltd., suggested adoption of small sugarcane growing villages to educate the farmers about the recent developments particularly in farm machinery, particularly to facilitate sugarcane harvesting and transport. He discussed about digital platforms to be used for exchange of information and greater use of mobile apps for regulating the sugarcane supplies.
To Listen to this News click on the play button.