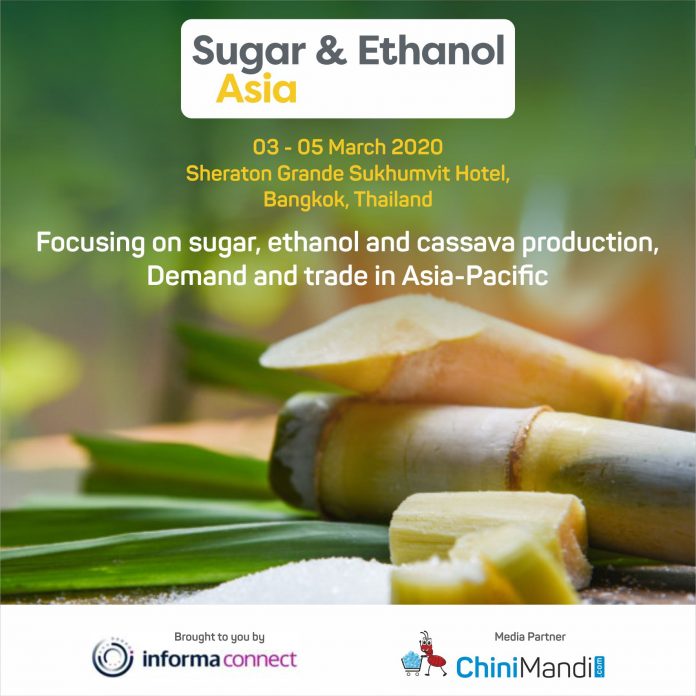 The Sugar & Ethanol Asia conference, which will run from 3 to 5 March 2020 at the Sheraton Grande Sukhumvit Hotel, Bangkok, Thailand will be a platform for discussion about sugar, ethanol & cassava production, demand and trade in Asia-Pacific. The event will bring together a diverse audience of sugar millers, ethanol producers, traders, investors and knowledge seekers from Asia and the rest of the world. The topics up for discussion reflect the latest trends in sugar and ethanol production, the regulatory outlook in key Asian markets, and new commercial opportunities in the region.
In a conversation with ChiniMandi News, a spokesperson from the organizing team expressed his views on the event. "This is the 14th Annual Sugar & Ethanol Asia Conference – part of the Global Sugar & Ethanol series," he said. "Delegates will be hearing from and meeting producers and buyers from across Asia-Pacific to identify the key growth drivers. They will also be able to discover new business as government policies point to strong industry growth prospects in Asia-Pacific, and will identify supply gaps for fuel ethanol, non-fuel ethanol and sugar."

"At the ethanol technology workshop that precedes the main conference, no stone will be left unturned to ensure that delegates are acquainted with the latest (Bio)technological innovations and developments in process design. The workshop will teach them to boost the efficiency of feedstock utilization, minimize waste and increase operating margins."
"Alongside speakers from Thailand, we also have a number of eminent speakers from various parts of the world like Sri Lanka, US and India, who will speak on day two of the conference. Over 100 global industry experts from more various parts of the sugar commodity spectrum are expected to attend the conference. Throughout the day, sessions will focus on subjects ranging from the regional and global economic outlook, to current market trends are innovations in alternative fuels and sustainable production processes," he added.
For more details visit http://bit.ly/36yuFec or Contact +91 9055115511
 To Listen to this News click on the play button.